Hi everyone!
As a reader and a sufferer of mental illnesses, I thought it would be useful to create a list of books that deal with the topic of mental health. These books could include descriptions of anything from depression and anxiety to borderline personality disorder. As these could be sensitive topics for some people to read about, it could be a nice resource for others to find literature where they can relate to some characters and read about situations that the reader may find themselves in.
Disclaimer: throughout this list of books there will be a small description of mental illnesses that is discussed in each book which may be sensitive content for some readers.
To start off the list, I'm going to use my personal favourite -
TW: this book has details of sexual abuse.
The main protagonist is a young girl named Kiko. She has to deal with her emotionally manipulative mother, her abusive uncle and her anxiety disorder. Kiko decides to travel to California to search for the perfect art school.
Up next is another favourite of mine...
In Turtles All The Way Down, 16 year old Aza Holmes suffers from severe anxiety and obsessive compulsive disorder whilst trying to help her friend solve the mystery of his missing father.
This book is inspired by Vizzini's own experience of psychiatric hospitalization with depression. Craig Gilner checks himself into a mental health clinic, however the child's wing of the clinic is closed so he has to spend his mandatory 5-day-stay in the adult's wing.
A coming of age story about introverted Charlie, who suffers from PTSD, depression and anxiety, is about to embark on his first year of high school.


TW: this book has descriptions of suicide which may be distressing for some readers. In this memoir, there is an abundant amount of mental illnesses portrayed in Girl, Interrupted. For example, both Lisa and Susanna struggle with borderline personality disorder, Georgina suffers from depression and Daisy suffers with anxiety and bulimia.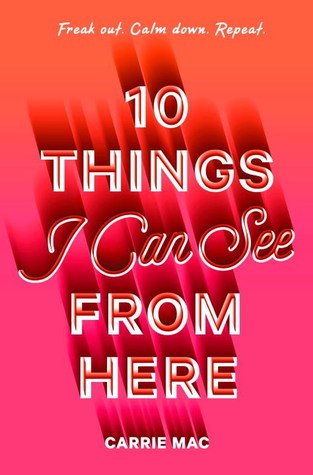 Maeve, the main character, has to live with her father in Vancouver for 6 months while her mum goes away. Her mother is the only person who knows she suffers with severe anxiety. Maeve also has to come to terms with the fact that her most recent love interest is a girl.
After 8 months, Pat Solitano, a volatile young man, has been released from a psychiatric hospital following his diagnosis of bipolar disorder.
College student Cath suffers from anxiety disorder, this book not only looks at the effects of mental illnesses on the sufferer but how it effects those around them.
Molly suffers from anxiety and takes medication without it being used as a plot device in the story. Molly learns to love herself and gain self confidence regardless of her size and mental health!
TW: This book contains descriptions of suicide.
Theodore Finch struggles with undiagnosed bipolar disorder. He meets unlikely friend Violet Markey on top of their school's bell tower where both of them contemplate suicide.
Hopefully, this post helped you realize how many books there are regarding mental health and maybe inspired you to try some of the ones listed above!
Love, Lucy xo
If you'd like to keep up with Lucy, please visit her Instagram!